Proving Permanent Injuries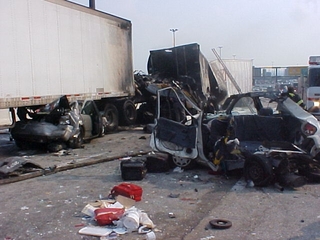 A permanent injury lawsuit is different from a garden variety injury case. In most cases (which are typically filed in the district courts), there is a car accident, an injury, discrete treatment for a up to about 6 months, and then the victim has fully recovered. In a permanent injury lawsuit, however, the victims will never recover, and will continue to have the effects of the accident for the rest of their lives.
Those effects may include an inability to work, or need for a lifetime of future medical or nursing care. The way we prove these to an insurance adjuster, judge or jury is through experts.
Common to most of these cases are the types of experts that required to prove the claim. These experts will typically come to trial and testify directly in front of the jury, or else their testimony will be recorded a few days or weeks before the trial, and played back before the jury.
Doctors and Medical Experts
Permanent injuries must be proved through medical testimony. We will ask your doctor, usually a specialist, to testify at trial or by video about your medical injuries. Doctors must explain the treatment required for your injuries, and the cost of caring for those injuries. Depending on the injuries, multiple experts may be necessary.
Life Care Planning
Life care planners can be very useful in proving the future needs of a catastrophic injury victim. Life care planners will work with the victim's medical providers to develop a plan of care for the future, including the costs of medicines, services, and treatment. A life care planner may include the costs of housing modifications, transportation (like a wheelchair accessible van), or part-time aides or nurses. When presented to a jury, the life care plan will be in the form of a list, allowing the jury to decide what options are necessary.
Vocational Rehabilitation
If the injury limits a victim's ability to work, a vocational rehabilitationist may evaluate the victim and determine whether return to work in the same or a different occupation is possible. Sometimes, a return to work is possible, but for a lower-paying job. The vocational rehabilitationist will outline the victim's options, and work with the economist to determine the net effect on future lost wages.
Economist
The economist will take the life care plan and lost wage information and put it together into something known as present day value. This is the cost today of future values. In the context of medical care, for example, we all know that health care costs rise with inflation. The economist can predict the future cost of healthcare, and can tell us how much money is required today (invested conservatively) to pay for that future care. The same thing holds for future lost wages. Wages increase over time with inflation and advancement–the economist can predict how much money now is necessary to build up to that future amount. The economist must do this because a personal injury victim cannot come back to the jury for more money–there is one chance to get everything he deserves.
In addition to economic damages, people with catastrophic injuries will have a lifetime of non-economic damages. This includes things like pain, suffering, disfigurement, inconvenience and physical impairment. These are more difficult for insurance adjusters to evaluate–indeed, it may be hard for six people on a jury to decide the value of non-economic loss.
We give them a number of tools to help. They know the past and future medical expenses, and some jurors may apply a multiplier based on how serious they think the injury is. For example, a jury could look at medical expenses of $100,000, and decide that non-economic damages are worth the same, double, or triple that amount. They might also look at the wages more closely–for example, if the plaintiff earns $10.00 per hour, the jury may determine the amount of pain and suffering expected for the life expectancy of that person. For example, the jury may award $10.00 for every waking hour for the rest of the victim's life–this number will add up quickly.
Conclusion
Let us know if you need help recovering from the insurance company because of a serious automobile accident. Our settlements and verdicts show that we take our clients seriously, and we will make the insurance companies take us seriously. You can reach us at 443.850.4426, or online.