FAQ: WHAT TO EXPECT AT A PRE-TRIAL CONFERENCE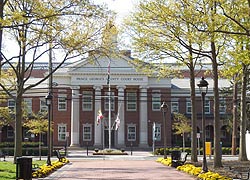 We had a pre-trial conference in Cecil County earlier this week.  As I was discussing with my clients what to expect, I was reminded that, as "old hat" as these pre-trial conferences are for me, most people have never been through the process.  This is a good place to describe what they are all about.
One caveat before we start–there is some variation between the counties, and sometimes even between judges in the same county.  Your lawyer should know (either by experience or by asking other lawyers with experience) exactly what to expect in your case.  Here is a sample scheduling order for Baltimore City Circuit Court, which sets the pre-trial conference: Scheduling Order (02-24-18)
Some frequently asked questions:
What is a pre-trial conference?  A pre-trial conference is a time before trial where a judge (typically) can meet with the lawyers to make sure the case is ready for trial.  It is also often a chance for the court to assist the parties to come to a resolution before trial.
Do I have to go to the pre-trial conference?  In most cases, the parties are required to be there.  For plaintiffs (the people who filed the lawsuit), the court usually requires their presence unless it is excused.  For example, in a case that is unlikely to settle, the plaintiffs' lawyer may file a request with the court (a motion) to waive that requirement, or to allow them to be available by phone.  The defendant (the party the case is filed against) will usually not show up in an automobile case, but will be represented in part by the insurance adjuster who has authority to negotiate the case.
Will my lawyer be there?  Yes, the lawyers are required to be there.
Will I need to speak?  In most cases, the judges won't require the parties to speak.  In fact, in many cases (Baltimore County Circuit Court, for example), it is common for the judge to ask the lawyers and insurance adjusters to meet in chambers first, leaving the plaintiff in the waiting room.  If negotiation occurs, it is useful to have the plaintiff available, but the judge will not usually ask the plaintiff to speak.
What do I need to do?  In some county courts, the trial date is not selected until the pretrial conference.  The Plaintiff should bring his/her calendar so that the trial is scheduled on a date that he/she is available.
What does my lawyer do?  Your lawyer will discuss the case with the judge, the defense attorney and the insurance adjuster, and may attempt to settle the case.  If your case does not settle, he will give the judge important information that will allow the court to prepare for trial.  For example, the court may want to know the expected length of trial, the number of expert witnesses and lay witnesses, and the number of documents to be entered into evidence.  The court will want to know if liability is admitted, or if the case is merely moving forward to determine damages.  Finally, some judges may want the parties to prepare important documents for trial, like the jury instructions,  voir dire, and verdict forms.
How can I prepare?   First, make sure that you are dressed appropriately.  I tell my clients no hats, clean clothes, and I recommend that the client take into consideration the fact that the judge will dress professionally, so they should, too.  For men, for example, nice pants (not jeans) and a nice polo shirt or button down is appropriate.  Second, talk with your lawyer beforehand about settlement.  Have an idea going in about what numbers you are prepared to demand, and what amount you are prepared to accept.  I find that it is important to be a bit flexible, as you may get new information at the pretrial conference about the defense strategy that can change your valuation of the case.
One last thing–show up on time (and by on time, I mean early).  Make sure you know what building to go to, what to expect when parking, whether parking facilities in the area will accept cash or credit card, and what room to go in.  Have your lawyer's cell phone number saved in your phone so you can find each other when you arrive.
If you are reading this, it is probably because you have a pre-trial conference coming up.  Good luck.